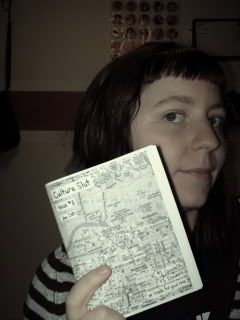 This issue is my life story. It begins in a town so small that it only has one real intersection. Follow me through every house I've ever lived in... I will tell you the story of my father, swing sets, Nirvana, my first period, discovering feminism, getting drunk, falling in love, the cat, life in the capital city and finding my way home.

Also, reviews of the books and zines that have been inspiring me lately.



Culture Slut is $2.00 in Canada and the US, $3 International, or trade for your zine.

Please send well-concealed cash to:

Amber Farthing
377 Friel Street
Ottawa, Ontario
K1N 7W7
Canada

or Paypal to: polaroid.panic@gmail.com

ALSO AVAILABLE: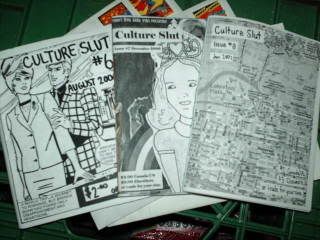 Issue #7: At the beginning of the year, I resolved to make 2006 my best year yet. Full of break-ups and get-back-togethers, tattoos, telemarketing, hallucinogenic drugs, a trip to Toledo, Ohio and a move to Ottawa, Ontario for the sake of adventures, Issue #7 is a document of that year.

Issue #6: Insecurity, constellations, bicycles, frustration, adventures in telemarketing, plus articles by me and my sister (Maranda of Telegram Ma'am fame) about what it's like being twins.

x-posted to
avabizarre,
zine_scene,
zines_canada,
stolensharpie, and
ottawazines.